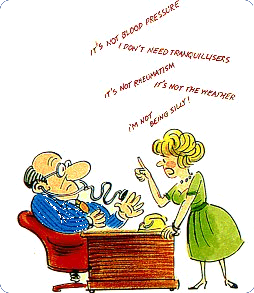 Earlier, its not as if women did not have menopause. They did. What they did not have, was all those additives in food, all those estrogen compunds in plastic containers that we use today, but they had a natural lifestyle, more in consonance with their bodies .
One accepted ageing gracefully, and that was a built -in way of handling stress.
Today, everywoman wants to look 30, doesnt matter if it means injecting toxins to soothe the wrinkles, swallowing hormones to convince the public that "looking young" is one of her "natural" qualities.
What has really happened is that due to all these pressures, mental illnesses have increased, and everyone has a quick fix fotr that. Take medicines. For depression. For anxiety. For excessive anger. etc. etc.
So, WELCOME to the HORMONE GOULASH !
You've succeesded in messing up your hormones. Your body, which is such a finely tunable hormone based machine, gives up and your hormones act up.
The Thyroid, which is really the "tempo" at which your body machine runs, needs an overhaul.
Unfortunately , a lot of thyroid malfunction symptoms are mistaken for menopause symptoms; and HRT is gleefully prescribed. Barring some exceptions, doctors dont like to be questioned. And so you go deeper and deeper into the hormonal abyss.
The American Association of Clinical Endocrinologists (AACE) put out a wonderful report in 1999, concerning Menopause and Thyroid, and they called it "the Missing T in HRT".
If you are woman, or concerned about the welfare of one, read it HERE .
To read about the fine differences about menopause and thyroid symptoms , click HERE