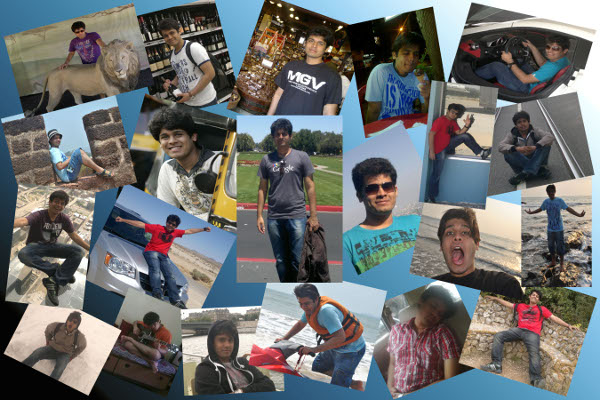 On my 21st birthday, my sister gifted me a framed version of this collage. The fact that she made this herself using Photoshop, and spent hours with my aunt to select the 21 stills that cover the widest range of expressions, that was a big gift in itself!
Here is the list of places where each photo is taken:
(From left to right, starting from the top row)
San Diego Zoo
Carrefour supermarket in Sophia Antipolis, France
Ghirardelli shop at Pier 39, San Francisco (yum!)
Temptations ice-cream parlour in Vile Parle, Mumbai (a regular hangout)
Driving the Lamborghini Gallardo at Exotic Car Racing, Las Vegas
Chapora Fort, Goa, India
In an auto-rickshaw outside JW Marriot Juhu (Mumbai) on the day of my JEE results (this photo was printed in DNA - a leading Indian English newspaper - on the next day, accompanying my interview about securing the 4th rank at national level in the IIT-JEE)
At the beautiful lawns in the middle of the Stanford campus
Mulholland Drive, overlooking the City of Angels (Los Angeles)
On route to Las Vegas
Tram tracks in Amsterdam on a lazy Sunday morning
Skydeck on the 103rd floor of the Sears Tower, Chicago
On route to Las Vegas
Miramar Beach, Goa, India
Anjuna Beach, Goa, India
Freezing on Mt. Titlis, Switzerland
At home
Seine river cruise, Paris
Water sports at Sinquerim Beach, Goa
In dad's car
St Marguerite islands off Cannes, France
NOTE: Image is not for reproduction, copying, storing, or distribution without prior written consent of the website owner. If you infringe upon this rule in any manner whatsoever you will be prosecuted without mercy. If you are still reading this paragraph, you are suffering from acute legalese addiction.